The Berurim and Sderot plant won the "Beautiful Industry" competition for 2023 in Israel
On Thursday, February 16, 2023, a ceremony was held at the "Council House for Beautiful Israel". The ceremony which was held for the 42nd year, summed up the competition for a beautiful and sustainable industry in Israel, in which star signs and certificates were awarded in the areas of quality of life and the environment to outstanding enterprises and companies.
The purpose of the competition is to improve the working environment for workers in the Israeli industry and the outlook of factories on the environment and sustainability in the areas where they operate. In addition, the enterprises are also ranked according to the community activity they carry out. About 140 factories and industrial parks from all over the country participated in the competition, working throughout the year to meet the criteria.
We are proud to inform you that both the Berurim site and the plant in Sderot have been recognized in the 5-star competition.
 The Berurim site has also won the competition of the Beauty Flag.
In this competition we're being recognized with 3 important topics:
Energy and resources saving
Environmental awareness and recycling
Contribution to the community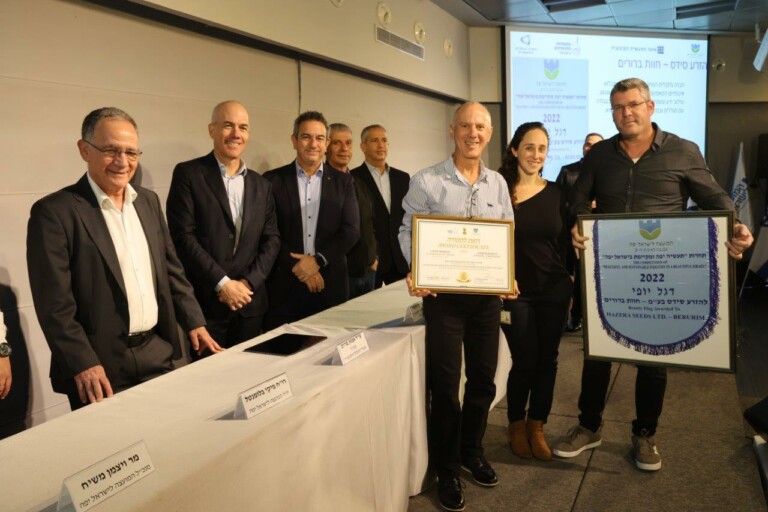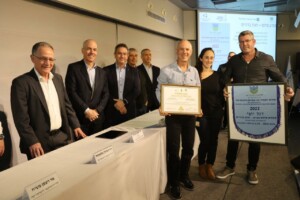 Odelia Shalev, Director of Corporate Responsibility (CSR) says:
"Winning the "Beauty Flag" is a result of the importance we are addressing to the environment topic and more specifically to sustainability. At Hazera, sustainability is considered an integral part of our Corporate Responsibility, and under this framework we initiate and execute projects that will help us minimize our carbon footprint and our energy resources usage."
Itzik Viloga, the administration manager of the Berurim site adds that "This year Berurim site contested and won the "Beauty flag competition in addition to the 5-star competition against leading and worthy competitors in the industry.
We at "Hazera" work on both sites regarding our impact on the environment and contribute to the community on a daily basis as a concept. Additionally, our breeding routines also take into account the tasks and operational goals which include:
Circulation and safety, energy efficiency, internal and external visibility and employee well-being."
Oren Egozi, Plant Manager in Sderot:
"Beyond the important environmental and social aspects, this national recognition is also acknowledging our work for continuous improvement of the working terms and safety in the workplace for the benefit of all our employees and contractors as well as our investment in our workplace visibility and its surrounding – inside and outside."
We're happy to share these news with you, and we're proud of the emphasis we place on sustainability, recycling, and contribution to the community. As part of the agricultural industry, we believe that our activities for the environment are a strategic and important part of our work, they affects us directly in our day to day work, and we'll continue to act for the environment and the community in which we live.